The Portuguese School of Equestrian Art at the Nora Patio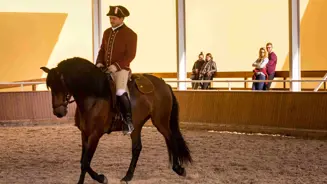 Held as a complement to the Mornings of Equestrian Art program, this guided visit allows participants to discover the different spaces of the School, through a historical journey where the most important periods in the History of the Portuguese School of Equestrian Art are approached.
Visits last 30 minutes and can be at 10:30 am, 11:00 am, 11:30 am, and 12:00 pm.
Visiting the Portuguese School of Equestrian Art is an opportunity to travel through the History of Portugal and to live moments that were perpetuated in the beauty of the Lusitano horses of the Alter Stud Farm, used in this art since the 18th century in the performance of classical riding exercises of the period Baroque and Court Games; but also in costumes and harnesses - whether for work (daily training) or gala (presentations and shows), they are the same as those used in the genesis of Portuguese equestrian art.
Learn more about the Portuguese School of Equestrian Art.
*Photographs and videos are allowed in the Nora Patio without the use of flash; they are however not allowed in the Henrique Calado Riding Ring.
Would you like to schedule this activity for a date and time of your choice? Contact us: