Swan Room, Magpie Room and Golden Chamber
The organisation of the rooms in the Palace of Sintra followed a social hierarchy headed by the King and the Queen. This section corresponds to the Royal Palace built during the reign of João I and Philippa of Lancaster.
 This begins with the Great Hall, today known as the Swan Room, which was open to everybody who entered the palace. Access to the following rooms became progressively more selective, culminating in the Apartments of the King or Queen. Only certain members of the high nobility, the clergy or important foreign ambassadors would ever make it thus far.
The layout of the furniture was altered to conform with the desired staging of power and furthermore tailored to the social status of those present.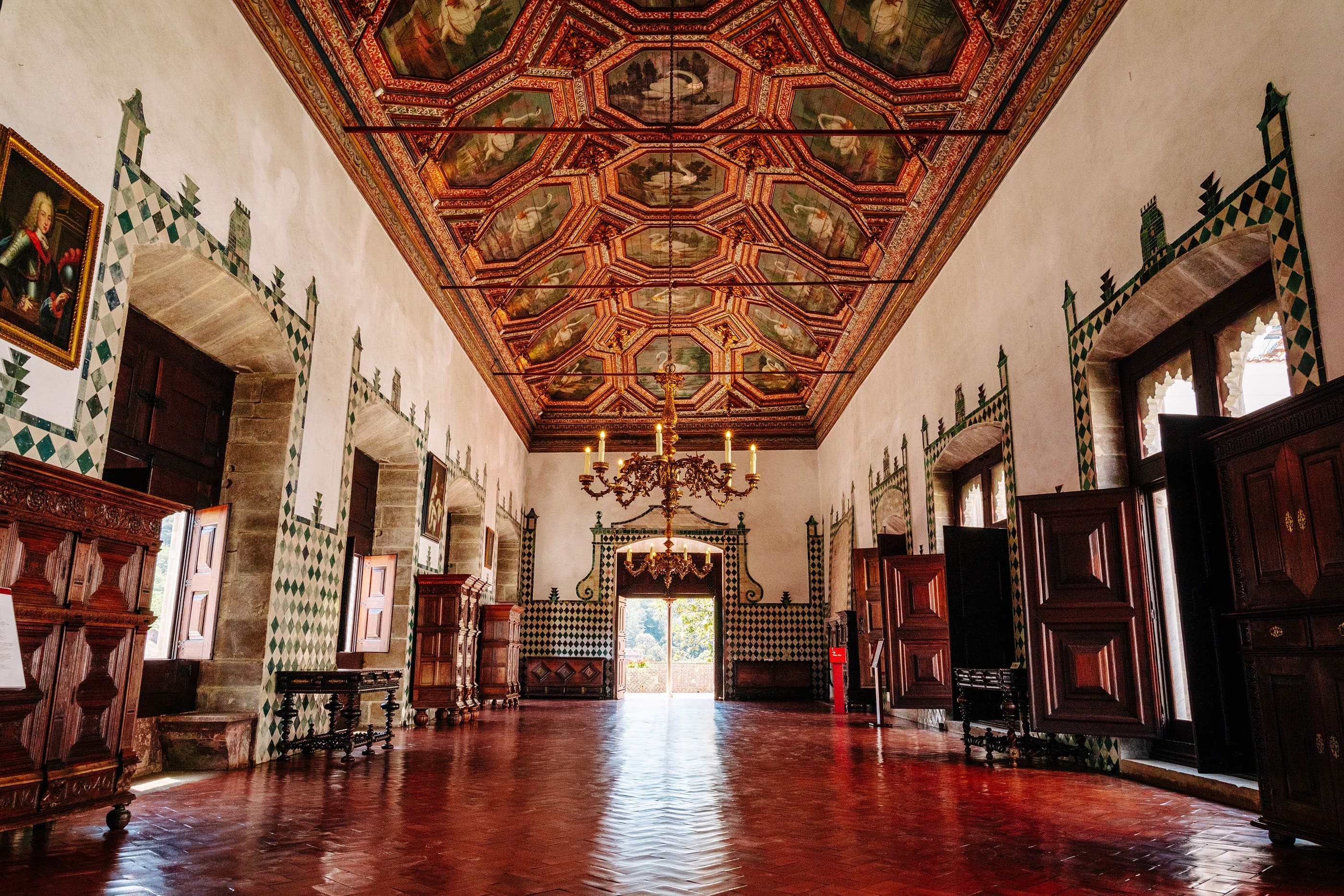 The Swan Room corresponds to the Great Hall of the Palace from the time of King João I and Philippa of Lancaster.
 Through to the 19th century, this was the room that brought together the court and the place for banquets, musical concerts, public receptions, religious and even funeral ceremonies.
 Its name derives from the decoration on the ceiling panels with their date of execution unknown but believed to have been in the 14th century when Sintra, as part of the Queens' Lands, was under the direct administration of Philippa of Lancaster . The swan with a crown was an emblem deployed by Henry IV of England, her brother.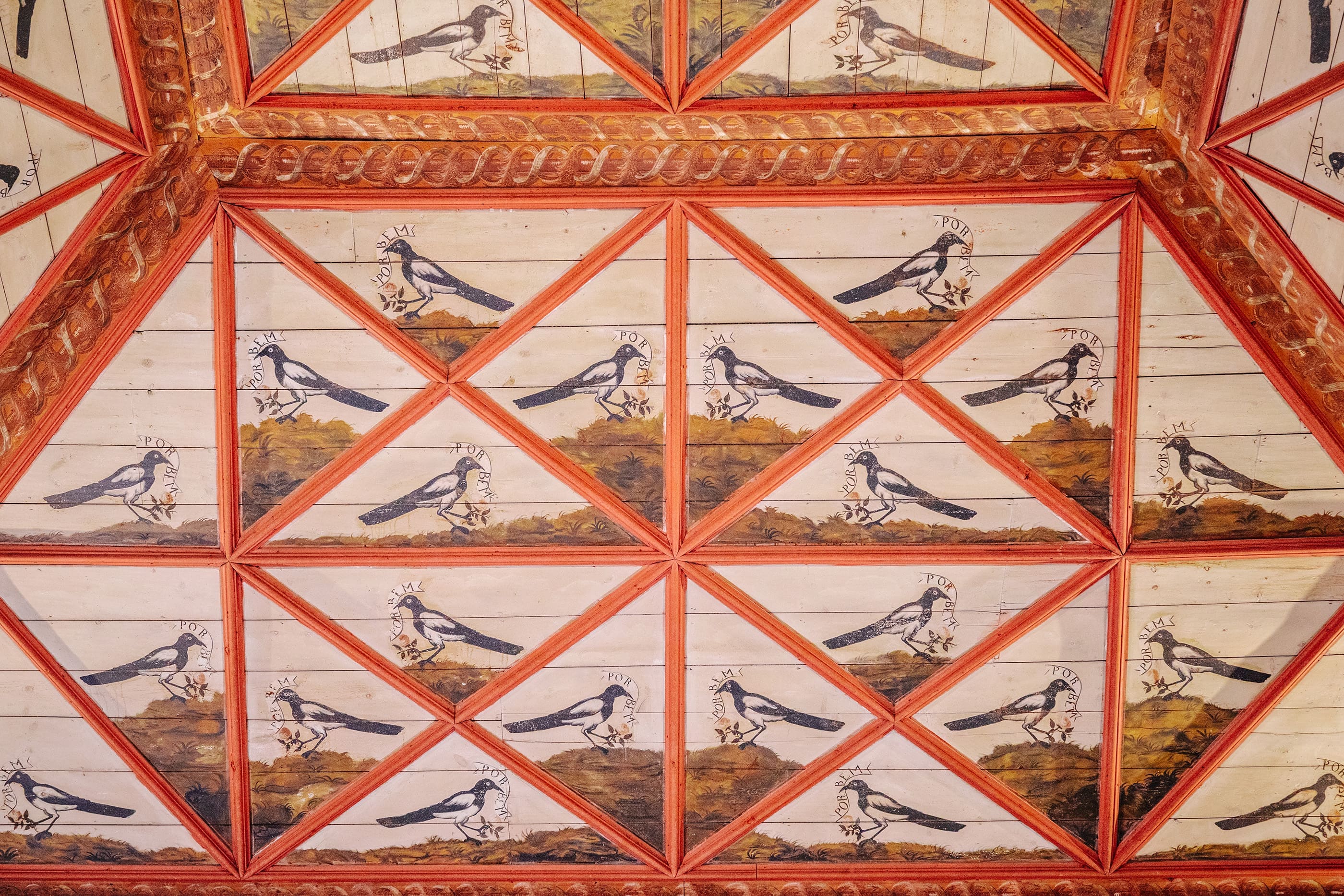 This is followed by the Magpie Room, which was the room most commonly chosen for royal audiences.
 The only existing furniture would be that necessary to demonstrate the majesty of the respective monarch: a dais or carpet, a chair and a canopy. In the 19th century, royal audiences lost their importance and this room began to be used for banquets.
 Its name alludes to the ceiling painting, believed to be the oldest in the palace. The exact significance of the 136 magpies remains unknown. The rose they carry in their claws potentially refers to the English House of Lancaster to which the queen belonged. "For good" was the slogan of her husband, João I.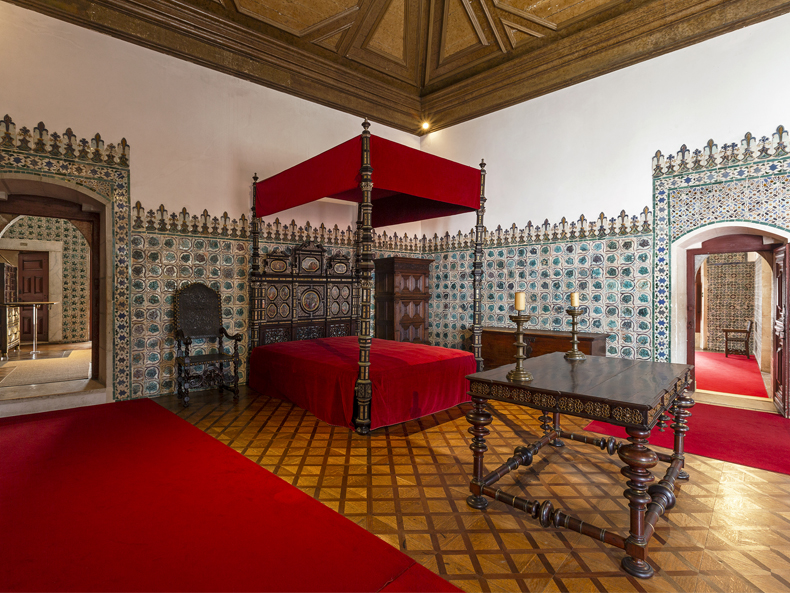 The Golden Chamber is the third room in the Palace of João I and Philippa of Lancaster. Here, the monarch would receive persons of the highest social status as was the case with Queen Catherine of Austria. They might also sleep on the bed here, surrounded by their servants or some closer family member, who would sleep on the floor. This was the utilisation given by King Sebastião to this chamber. In the 15th and 16th centuries, the room was finished in gold but this decoration was lost to time. In the 19th century, this became the dining room.