The Silver Bed of the Dukes of Cadaval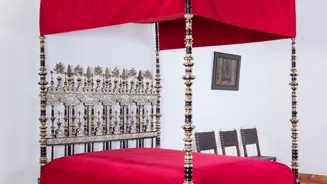 The third issue of the monograph series "Collections In Focus" is dedicated to an extraordinary piece of furniture and jewellery purchased by Parques de Sintra for the National Palace of Sintra: the so-called "Cadaval bed". This canopy bed in Mozambican blackwood, delicately carved and lined and embellished with silver, is unique in national collections for its rarity and museological value.
Owned by the House of the Dukedom of Cadaval through to the mid-20th century, this state bed is a unique example of the once rich heritage of the Portuguese crown and great noble houses during the second half of the 17th century. It is the only surviving specimen of the Portuguese-style carved beds lined with silver still preserved in the Portuguese territory today, and of which up until recently there was only documented proof. Such a bed would have been used at the Royal Palace of Sintra for the funeral ceremonies of King Afonso VI († 1683), which took place in the Magpies and Swans rooms.
The blackwood and silver bed of the Dukes of Cadaval was the object of a detailed conservation and restoration intervention, and is now integrated in the exhibition circuit of the National Palace of Sintra, in a room that evokes the privileged reception halls in the residences of the Portuguese elite during the 17th century.
A group of researchers and specialists was invited to address various topics related to this bed, such as the study of materials and techniques, its dating, its production context, its history, its function and its ornamental discourse, among other subjects. These studies resulted in the six chapters that make up this monograph.