Horses in the Forests of Sintra - Tradition and Sustainability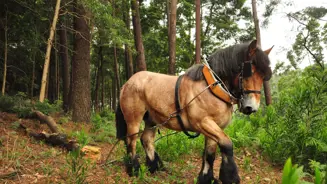 New
Under the auspices of the European Heritage Days, which in 2022 are dedicated to "Sustainable Heritage", you are invited learn more about the work carried out in the forest areas managed by Parques de Sintra with the precious help of Ardennais horses.
Open to all visitors to the Park of Pena and starting at the Pena Farm Stables, this initiative will demonstrate how forestry work with these horses is done, through exercises of precision, strength and balance, and the transport of trunks between trees, avoiding obstacles, with a minimum of impact. These extraordinary horses, specially trained for this work, react to more than 10 different types of vocal commands and always answer by their name, being driven essentially through the voice of the handler, with the help of only one rein. They are Ardennais, a very breed popular for forest work, as they are relatively small, agile, very strong, and have am extremely docile temperament.
This practice, used by Parques de Sintra since 2011, has reintroduced a traditional and environmentally sustainable technique in the exploration and maintenance of forest areas. Contrary to what happens with mechanized means, which should be avoided whenever the topography of the site is uneven and the risk of erosion is high, putting at risk important values ​​for the preservation of the natural and cultural heritage, the use of horses allows the conservation of soil, easier access to steep areas and the preservation of the natural regeneration of existing trees and shrubs. In addition, it allows the work to be carried out without noise and atmospheric pollution and with complete independence from fossil energies and also recovers a sociocultural heritage lost both in the Sintra Hills and, more comprehensively, in Portugal.