Do you know which monument in Sintra you can visit with your dog?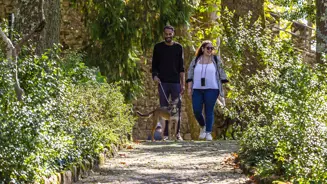 Pets are increasingly seen as part of the family. They keep us company, cuddle up next to us when they realise we need some comfort, and they vibrate on our arrival like nobody else. That is why it's normal for families to want to include their pets in all their plans.
Given the characteristics of Sintra's monuments, which include palaces that are hundreds if not a thousand years old, with complex museographies whose conservation and safeguarding is at the top priority for those who work there, it is naturally impossible to bring pets on visits to these spaces. But there is one monument that has recently become an exception.
Since October 2022, the Moorish Castle has been named a "dog-friendly" monument. Visitors can discover this ancient castle, so important in the history of Sintra and Portugal, during a walk with their four-legged friend.
Here are some tips to make the most of this tour:
– Consult all the rules on the Parques de Sintra website;
– Respect the signposts on site so as not to put other visitors or your pet in danger;
– There is a limit of 5 dogs on the site at any one time, so arrive with time and wait for your turn to enter the monument;
– Take a non-extendible lead;
– If you have forgotten your water bottle or poop bags at home, don't worry, there are dog drinking fountains and bag dispensers on site to collect waste.